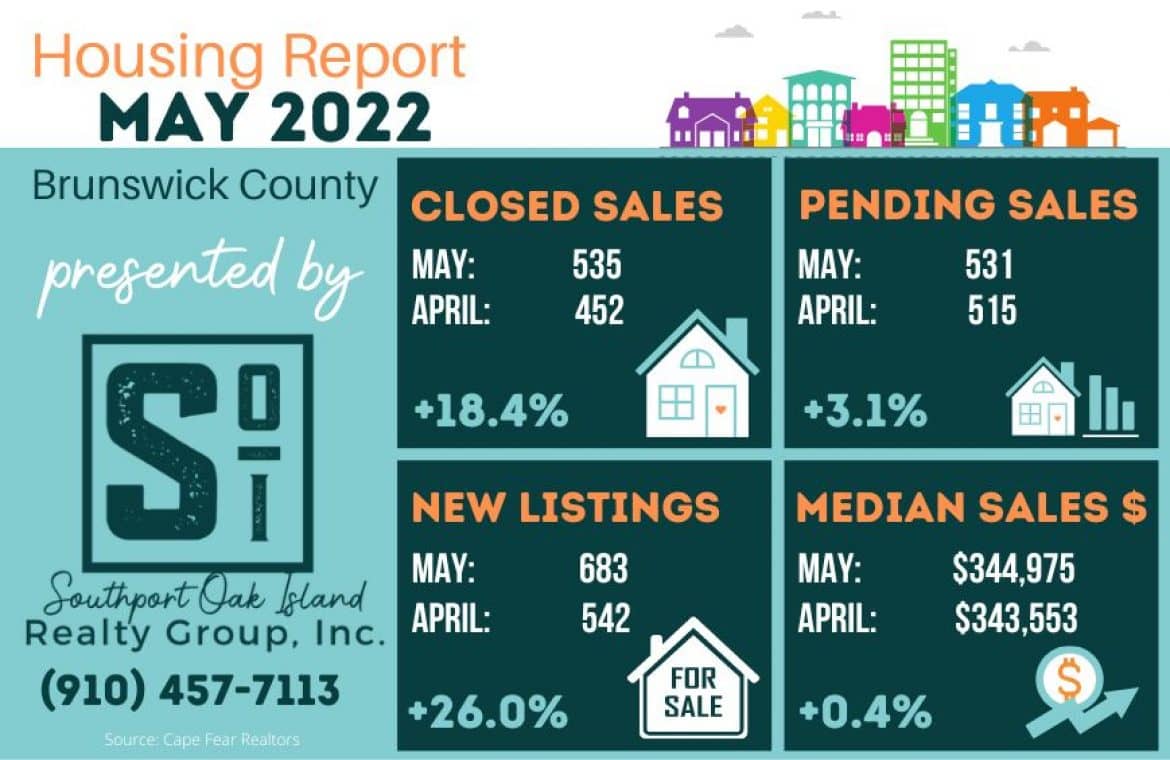 Highlights from the May 2022 Brunswick County local housing and real estate market update:
• Home, Condominium and Town-home inventories are increasing
• Closed home sales and pending home sales have increased from last month
• The average "Days on Market" has remained at only 23 days on market
• Brunswick County, NC home prices also saw a slight increase!
Well there is no doubt that the local real estate market is feeling a change in the wind!
One question remains, is it the roller-coaster of home loan interest rates, lack of home inventories, consumer confidence in the economy or inflation? Or could it be a combination of all of the above!
Lets dive in and see if we can help shed some light into the current real estate market in the Southport, Oak Island, St James Plantation and Bolivia, NC!
While it more than likely not just one thing, but all of the above. With confidence, we can say that last months numbers were definitely affected by rising interest rates! The increase in interest rates caused a lot of home buyers to be priced out of the market due to the still high home prices compiled with the cost of borrowing money, resulting in a monthly mortgage amount higher than some could simply afford. This trend will more than likely continue into the upcoming months.
Remember that our local real estate market here in coastal North Carolina is always going to differ from other real estate markets, this is due to the fact that our local area is a highly sought after retirement and vacation destination. Individually, these two factors could themselves sustain a healthy real estate market, but combined, they equal a perfect storm of never ending demand!
So why are we seeing home prices still increase with inventory rising?
The increase of home prices could be caused by multiple factors, but this is normal! Home price raise and lower in cycles, sometimes these cycles are rapid and other they are slower. Over the past year we saw an unprecedented real estate market, with higher than average demand and prices, even for our coastal area. So it is not surprising that home prices are fluctuating, as this is a normal part of the cycle. Although we are not in the "NAME YOUR PRICE" market we were in last year, it is still a great market for home sellers that want to cash out and receive a huge return on investment.
Unfortunately, if you are still wanting to sell your home for an astronomical amount, the chances of you receiving that pie in sky amount is dwindling rapidly.
But nonetheless, we are still here for you!
Here at Southport Oak Island Realty Group are here for both home buyers and sellers, have experienced Realtors standing ready to help you though this current real estate market and make the best of the times!
Southport Oak Island Realty Group is your trusted Real Estate Company for St James Plantation, Oak Island and Southport, North Carolina!
Contact our team of expert Realtors today!