A town renowned for beauty!
Charming downtown streets are lined with cottages, enticing boutiques, a range of paddling and walking trails, and miles of water in every direction.
Located where the Cape Fear River meets the Atlantic Ocean, the area has long been a popular filming location and for good reason! Southport offers so much more than just that small town feeling, but
a lifestyle longed after by many, but only found by few…
Southport also has one of the lowest crime ratings in the country, we enjoy not having to lock our doors and often leaving keys in car ignitions. I know it seems unreal but in Southport NC, it is true.
Once you live here you will know peace and quite too!
You will find yourself  near the waterfront, sitting by Whittlers Bench and watching the ships roll in. Shrimp boats and pleasure boats are fun to watch especially at sunset, and as the container ships go by they dwarf the inlet and are so close you feel like you can touch them.
Come find out what owning a home or real estate in Southport NC is all about!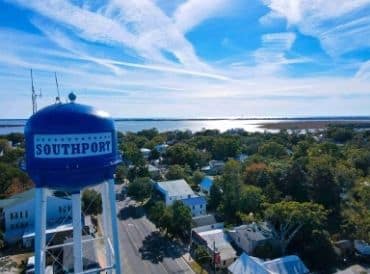 Communities in Southport, NC
There are many different neighborhoods or communities within the city of Southport, NC.
Each offer a different feel, location and some, with amenities.
Below you will find  a list of these different communities. Fell free to click on the links below to discover more about them and find out which one is right for you and your next home in Southport, NC.
Olde Southport
The Landing
Harbor Oaks
The Hammocks
Turtlewood at Southport
The Cottages at Price's Creek
Cottage Point
Marina Village
The Harborside
The Village at Southport
The Cottages at Southport- Cades Trail
Forest Oaks
The Ridge Townhomes
Bonnet Way Townhomes
Smithville Woods
Southport Way
Rivermist
Wescott Estates
The Indigo Project
Southport Proper…
Local Medical Facilities

Dosher Memorial Hospital
Novant Health Medical Center
Novant Health New Hanover Regional Medical Center
Have children or grandchildren and want to know more about the local schools?
For families looking to be close to your children or grandchildren's school the Grade school, Southport Elementary is conveniently located in the heart of Souhtport, NC.
Of Course as the children grow they will have to move on to the local South Brunswick Middle School and South Brunswick High School.
But not to worry they are not too far away either! This is one of the great things about living in this amazing community and area!
Local Destinations
Oak Island, NC Beach
Wilmington, NC
Myrtle Beach, SC
Southport, Noth Carolina Facts
Located at the mouth of the Cape Fear River, where it meets the Atlantic Ocean
One of the oldest communities in coastal North Carolina
First discovered in 16th Century by English Explorers
Was frequented by Pirates in the early 1700's
Rich history in the American Revolutionary war
Town of Southport was built around Fort Johnston, a military defense base to protect the vital Cape Fear River
Southport, NC played a vital role in the Civil War
Originally named Smithville North Carolina, name was changed to Southport, NC in hopes of become a hub for port activities
Turned into a major fishing village after the Civil war
Has slowly turned into the vacation resort it is now
Has been a popular filming location for years due to its unparalleled natural beauty
Is just now beginning to found by many and is now growing by leaps and bounds
Southport North Carolina is a beautiful town that you would be proud to call home!
Voted "Happiest Seaside town in America" by Coastal Living
Visit Southport North Carolina today and find out why!