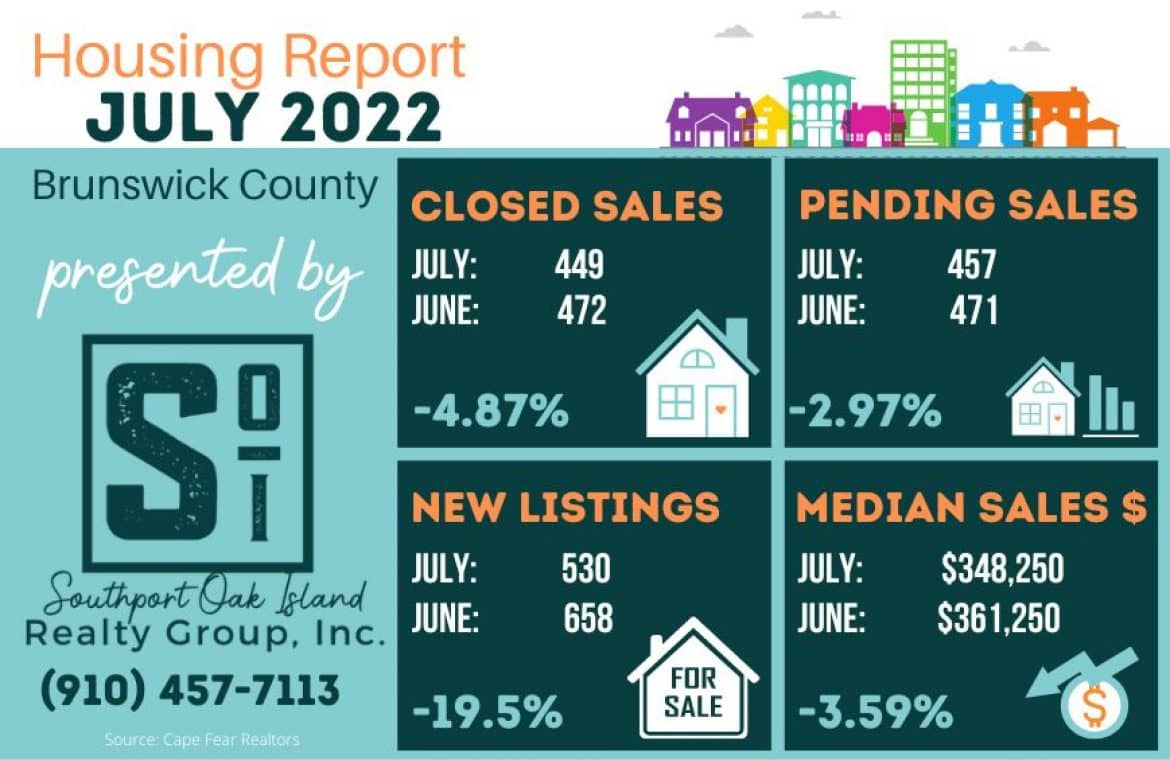 July 2022 Real Estate Market Update Oak Island NC are in!
As expected for Oak Island NC Real Estate, the market is continuing to show signs of cooling, unfortunately for home sellers in the Oak Island North Carolina Area! This does not mean that its too late to sell your home, homeowners that still want to sell their home in Oak Island and surrounding areas WILL still make a HUGE PROFIT on their home if they do decide to sell.
The July 2022 real estate market update for Oak Island North Carolina and Brunswick County North Carolina Real Estate market report for July of 2022 shows that Inventory is decreasing, sales prices are decreasing and pending sales are also down.
Homeowners looking to sell their home still seem to not be aware of the current trend of the market. They do mention that they know the slowdown is coming, they have just not yet realized it's here!
As I mentioned above, homeowners in the Oak Island North Carolina area and most of Brunswick County North Carolina area are still making HUGE PROFITS off of the sale of their homes, so do not be scared to list your home for sale with us!
We here At Southport Oak Island Realty Group are here to help you and know it is our job to maximize profits for you in the sale of your home in the Oak Island North Carolina and surrounding areas. That is why we are STILL OFFERING our 4% LISTING SERVICES!
Listing your home for less commissions than other firms means that you, the homeowner, get to keep MORE of the home sale PROFITS! It is as simple as that! Why would you want to sell your home and give away more money than absolutely necessary? You wouldn't!
Our team of experienced Realtors are here to make sure we do all we can to help you and get you as much profit as possible in the sale of your home!
Contact one of our North Carolina Realtors today to sale your Oak Island or surrounding area home!
Want to learn more about our 4% listing services Click the link below!
July 2022 real estate market update for Oak Island NC
Source: Cape Fear Realtors